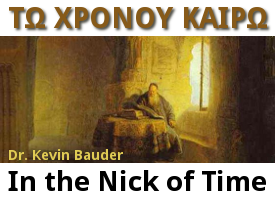 Read Part 1.
After graduating from college, I had the providential fortune to arrive at seminary just as William Fusco took up the presidency. In addition to the burden of leadership, Fusco was caring for an invalid and dying wife. Through the deep trial of his (and her) faith, the character of Christ shone with uncommon clarity. Without ever abandoning the key principles of his fundamentalism, Fusco consistently displayed a gentle spirit of kindness and personal sacrifice that I have rarely seen matched and have never seen surpassed. He was a man who overflowed with love of the Lord and love for people.
During my first year at seminary, I also met two professors whose teaching has marked me for life. The first, Charles Hauser, taught me more about dispensationalism and Christian living than anyone else. His most important contribution lay in his example. He modeled stability in the middle of trials, and his steadiness was as instructive to me as his classroom content.
The second, Myron Houghton, was George's twin brother. Myron's grasp of systematic theology exceeded anything that I had ever seen or thought possible. It seemed that he conversed with nearly every theological perspective, from multiple varieties of evangelicals to Roman Catholics to Adventists. He was constantly learning and constantly thinking. He significantly influenced my soteriology, but his real impact was on my ecclesiology. He made the case for ecclesiastical separation, including what is sometimes called "secondary separation." Incidentally, it was substantially the same case that appears in Ernest R. Pickering's book, Biblical Separation, of which Myron was later to become the editor. The key points of my understanding today do not depart from his ideas in any significant way.
My second year at seminary brought two more professors whose influence was both instant and profound. To this day, I consider Robert Delnay to be the best-rounded model for the life of the mind I have ever known. As a historian, he told a coherent story that provided a framework for understanding the current state of Christianity. As an exegete, he made the text of the Greek New Testament come alive for his students. As a homiletician, he taught a theory of rhetoric that could reach the affections without stooping to manipulate the appetites. From the beginning it was clear that he held the convictions of a fundamentalist, but he had a wonderfully sardonic and irreverent way of deflating the pompous self-appointed gatekeepers of the faith. Beyond all of this, he introduced a kind of spiritual urgency and intimacy with God that one can only label (as A. W. Tozer did) mysticism.
14008 reads