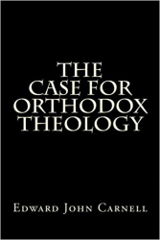 In this excerpt, Carnell concludes his critique of fundamentalism from his book The Case for Orthodox Theology ​(1959). Here, he has two criticisms. First, he believes the fundamentalist places an overemphasis on soul-winning at the expense of doctrine and Christian love. Second, he charges that fundamentalists, like well-meaning but delusional latter-day Don Quixotes, revel in their supposed "purity" while ironically demonstrating the worst sort of self-righteousness.1  
The Chief End of Man

Whereas orthodoxy says that the chief end of man is to glorify God and enjoy him forever, fundamentalism says that the chief end of man is to win souls. This conversion of final causes did not come by accident. Lest we be misunderstood, however, let it be clearly and forcefully said that evangelism is an incumbency on the church. Woe to the minister who has no compassion for lost souls! If we are united with Christ's cross and resurrection, we must also be united with his tears for Jerusalem.

But when the fundamentalist elevates evangelism above other Christian tasks, or when he conceives of evangelism in terms of techniques, he is no longer true to his own presuppositions. While evangelism is a sacred duty, it is by no means our only sacred duty.
4664 reads