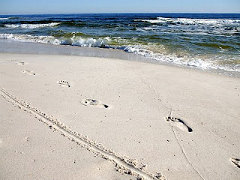 The majority of the healthy remnants of historic fundamentalism today have settled into a kind of co-belligerency. That is, the theological sons and grandsons of the first generation of fundamentalism have perched onto one of two branches of the fundamentalist family tree. These two branches are what I call Type B and Type C fundamentalism. I noted several years ago that a third branch, namely the Type A branch often believe and act as if they, and they alone, represent the entire tree! Thankfully more and more are flying over to the part of our ecclesiastical bush that respects a certain heritage while at the same time respects an allowable diversity.
This kind of C/B relationship was on display this last year when Mark Dever shared a platform with leaders such as Kevin Bauder, Dave Doran and Tim Jordan. Another example of how that relationship continues to emerge is the incredible overlap of what a healthy and biblical evangelicalism looks like as defined by Kevin Bauder and then by Al Mohler in Four Views on the Spectrum of Evangelicalism. One more example of this has been the explosion of interaction between Type B and C fundamentalists at conferences such as Shepherds and T4G. Certainly there continues to be a few differences between a Type B and Type C fundamentalists, but frankly there are far more differences between Type A fundamentalism and the B/C co-belligerency than there are differences between the B and C brethren themselves.
Lines in sand
Years ago I developed and presented a kind of taxonomy primarily for those within my own ministry. At the time I was wanting to hold on to the fundamentalist label but, for a variety of reasons, felt I needed to distance myself from many who used the same tag. I believed the taxonomy helped me do that in a way that could be understood by both those who grew up in the movement as well as newcomers (or onlookers). The result was the identification of Type A, B and C fundamentalism. I explored these categories several years ago in a series of articles entitled, "Three Lines in the Sand." An earlier article entitled, "A Line in the Sand," focused on the differences between Type A and B fundamentalism. "Three Lines" expanded to include Type C fundamentalism.
36758 reads