Hymnology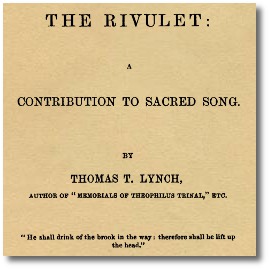 "Dr. Watts's Hymn-book does not satisfy and suffice me," said London Congregational minister Thomas Toke Lynch to his Mortimer Street church in 1851 (Memoir of Thomas T. Lynch, p. 95). Three years later, Lynch began penning his own hymns. In November 1855, while minister at Fitzroy Chapel on Grafton Street, Lynch published The Rivulet: A Contribution to Sacred Song also known as Hymns for Heart and Voice. A second edition appeared in 1856 and a third in 1868.
Lynch's hymns were laden with his own religious interests and poetic expressions and light on doctrine, creed or orthodoxy. In the preface to the second edition, Lynch wrote that his intent was to supplement, not supplant, existing hymnody.
Within two months of the first edition of The Rivulet, conflict broke out among religious newspapers and within the Congregational Union the likes of which has never been seen in any denomination concerning a hymn book. John Campbell, editor of the Congregational Union's official newspaper, used a newspaper not supported by the Union, titled the British Banner, as a means of criticizing Lynch, his hymns, and those who spoke favorably of them. James Grant, editor of the Morning Advertiser, joined Campbell's cause. The Nonconformist and Eclectic Review fought back by supporting Lynch and his hymns. By the time "The Controversy"—as it came to be called—ended a year and half later many other periodicals joined the fray. Hundreds of articles and pamphlets had been written in criticism or defense of the hymnal. The bitter debate so engulfed the Congregational Union that the regular autumnal meeting scheduled for September 23, 1856, at Cheltenham, was canceled out of fear that peace could not be maintained.
812 reads