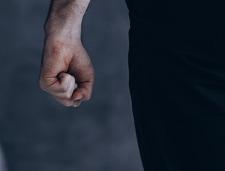 From The Cripplegate, with permission. By Jordan Standridge
Let me tell you about a gospel conversation I had recently that left an impression on my heart.
Tim was a very polite guy.
He was cordial and respectful. He listened carefully and was obviously raised well by his parents. He was well dressed and was very articulate. Tim was also very religious.
I start off every conversation with the same question I ask everyone, "If it applies, what are two reasons you stopped going to church?" Tim answered that he goes to Catholic mass every week.
So I asked him my second question, "Coming from a Catholic perspective, what would you say the gospel is?" He said it was the Bible. When I asked him what the "good news" of the gospel was, he said that it was the possibility to live a better life and to go to Heaven.
So I asked him a third question, and I let him know that I ask this question in order to really get to the heart of what someone believes about how they are going to Heaven. I asked him, "If you were to die tonight, and were to stand before God, and He were to ask you why should I let you into Heaven? What would you say?" He thought about it for a few seconds and said, "I don't think I'd say anything. I would expect the Lord to know whether I deserve Heaven or not."
1451 reads