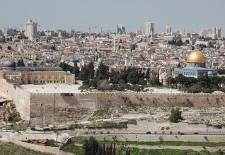 From Faith Pulpit, Winter 2015. Used by permission.
It's like coming to a place you have never lived and having the sense you are home. Sometimes it's referred to as the "Fifth Gospel." Others say it's worth a year of Bible college. Sometimes you hear someone say, "I have taken a lot of trips in my life, but none equals this one." What do all these statements have in common? They all refer to a tour of Israel. In this article Dr. Ernie Schmidt, former dean of Faith Baptist Theological Seminary, former interim FBBC&TS president, and a veteran guide in Israel, shares why believers should consider taking a Holy Land tour. In the second article Dr. Schmidt illustrates how a tour of Israel helps us have a clearer understanding of Luke 4:16–30.
The heart of an Israel tour is to observe the topography, geography, and culture which provide unparalleled insight into the Bible. When we are there, we do not use PowerPoint slides; we simply point and say, "That is where it took place." Such "hands- and eyes-on" experience takes your knowledge of the Bible to a whole new level in just a few days. Every day seems like a Sunday worship service as we go from site to site and learn new truths about the Bible. Here are some reasons for investing in a study tour of Israel.
5117 reads