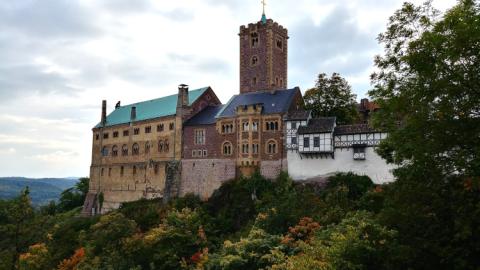 Read the series.
We visited Eisenach and the Wartburg Castle on the Sunday of our 500th anniversary Reformation trip.
The day was gloriously dark and dreary. Fortunately, we felt only a few raindrops. But it was an absolutely perfect day for a ride through the Thuringian Forest.
A young Martin Luther spent several of his most formative years less than three miles from the Wartburg Castle—in Eisenach, where the Cotta family hosted him as a schoolboy preparing to go to the University of Erfurt. We also traced the history of Johann Sebastian Bach that day, and our enthusiastic tour guide—a California transplant—told us excitedly how Eisenach became the source of Western civilization. He seemed to be familiar with every crack in the sidewalk of that city.
The Wartburg Castle is majestically awkward. Consider this fact: It had already been there for nearly 500 years by Luther's time! The sprawling castle bears evidence of continuous construction, and one can only wonder how many sacrificed their lives in the process of building and maintaining it. The sights from the grounds around the castle, as well as within it, are too magnificent to describe. One can see the majesty of creation looking down from the castle grounds, and the depth of history that this site generates is almost palpable.
1682 reads