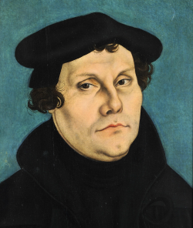 Below is the actual text of most ​of Martin Luther's infamous 95 theses. Many people have heard of them; fewer have actually read them. Here they are:1
Out of love for the truth and the desire to bring it to light, the following propositions will be discussed at Wittenberg, under the presidency of the Reverend Father Martin Luther, Master of Arts and of Sacred Theology, and Lecturer in Ordinary on the same at that place. Wherefore he requests that those who are unable to be present and debate orally with us, may do so by letter. In the Name our Lord Jesus Christ. Amen.

1. Our Lord and Master Jesus Christ, when He said Poenitentiam agite, willed that the whole life of believers should be repentance.

2. This word cannot be understood to mean sacramental penance, i.e., confession and satisfaction, which is administered by the priests.

3. Yet it means not inward repentance only; nay, there is no inward repentance which does not outwardly work divers mortifications of the flesh.

21. Therefore those preachers of indulgences are in error, who say that by the pope's indulgences a man is freed from every penalty, and saved;

22. Whereas he remits to souls in purgatory no penalty which, according to the canons, they would have had to pay in this life.
5716 reads