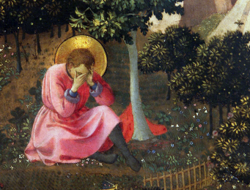 In this excerpt from Augustine's Confessions,1 he explains his own struggles as a Christian with the allure of praise from men.
"I am poor and needy," yet better am I while in secret groanings I displease myself, and seek for Thy mercy, until what is lacking in me be renewed and made complete, even up to that peace of which the eye of the proud is ignorant. Yet the word which proceedeth out of the mouth, and actions known to men, have a most dangerous temptation from the love of praise, which, for the establishing of a certain excellency of our own, gathers together solicited suffrages.
It tempts, even when within I reprove myself for it, on the very ground that it is reproved; and often man glories more vainly of the very scorn of vain-glory; wherefore it is not any longer scorn of vain-glory whereof it glories, for he does not truly contemn it when he inwardly glories.
Within also, within is another evil, arising out of the same kind of temptation; whereby they become empty who please themselves in themselves, although they please not, or displease, or aim at pleasing others. But in pleasing themselves, they much displease Thee, not merely taking pleasure in things not good as if they were good, but in Thy good things as though they were their own; or even as if in Thine, yet as though of their own merits; or even as if though of Thy grace, yet not with friendly rejoicings, but as envying that grace to others.
1378 reads