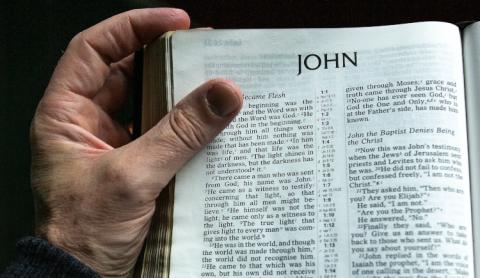 Although it is not an annunciation story, it is proper to include here some thoughts about how John begins his Gospel. John self-consciously invokes the creation narrative, but he introduces the "only begotten Son" (Jn. 1:18), Jesus Christ (Jn. 1:17), as the Logos or "Word" as a Principal in the making of the world:
In the beginning was the Word, and the Word was with God, and the Word was God. He was in the beginning with God. All things were made through Him, and without Him nothing was made that was made. (John 1:1-3)
Here the Logos1 is no incidental actor in the Creation Project. He is there at the very beginning of everything. Before Adam, before angels, the Word was present, and He was together "with God." Verses 14 and 18 make it clear that "God" in the Prologue is God the Father, with the exception of the last part of John 1:1—"and the Word was God." In that place this Logos is apart from God but is Himself designated as deity.
This either means there are two "Gods," or it means that God is a plurality: one Being but with more than one "expression." That is, the apostle declares at the start of his Gospel that the God of the OT is at least a plurality of "Persons" in a single essence.2 And this Word, who John will go on to identify as "Jesus,"—although prior to His being born into the world (Jn. 1:17)—is the one through whom God (the Father) made everything.
1544 reads