Gospel Coalition
by John Greening and Kevin Mungons
Reprinted with permission from The Baptist Bulletin.
Evaluations
We believe the Gospel Coalition movement bears watching. Because the movement itself is still developing and taking shape, our thoughts here should not be taken as a full analysis of this new movement. But having attended the conference and having enjoyed many aspects of it on a personal level, we would like to offer a few tentative observations.
1166 reads
Editor's Note: This article is reprinted with permission from The Baptist Bulletin.
by John Greening and Kevin Mungons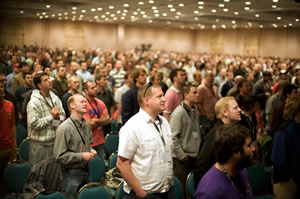 The Gospel Coalition conference, held on April 21-23 at a suburban Chicago conference center, was an enriching and enlightening time of learning and personal fellowship with conservative evangelical brothers and sisters who share many ideals with Baptist fundamentalists. Both of us attended with a desire to learn more about a growing movement within evangelicalism.
It was an uplifting conference. The sheer number—3,300 people, primarily male—was a moving sight. The participants seemed to evidence a deep commitment to the Word of God and the primacy of bold proclamation of the Scriptures.
We were accompanied by our pastor at First Baptist Church of Arlington Heights, Ill., Dr. Bryan Augsburger. All of us are now in our middle-age years, probably at least 15 years older than the median age of the attendees, who are in ministry or preparing for ministry. Perhaps we stuck out in the crowd a bit, and for reasons other than our graying hair: Our pants didn't have seven pockets, we tucked in our shirts, and we didn't send any text messages to the guys sitting next to us.
4386 reads
Pages