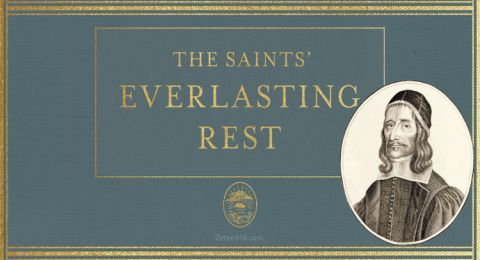 Richard Baxter on God's Love for the saints: Baxter (1615 – 1691) is well known for his monumental work "The Saints' Everlasting Rest." This work was a product of the turmoil the Puritan experienced throughout his life.
There was civil war and disease. Some 868,000 people died through battle and disease over three countries. At one point, Baxter, who was a chaplain for the Parliamentary forces, walked through a field where he saw "about a thousand dead bodies" and perhaps many more buried there. On top of all this, the frail Baxter was plagued with infirmities and was imprisoned. He was a man who lived under the expectation of death.
Nevertheless, he comforted himself with the truth of heaven and God's everlasting love for the saint. Surely he has worthy lessons for modern Christians!
Snippets from Baxter
The following is gleaned from the The Saints' Everlasting Rest, updated and abridged by Tim Cooper. While this is not a review, I recommend the book. It begins with a Foreword by Joni Eareckson Tada which is, in itself, a treasure to read.
Baxter reminds us that our senses will be perfected. We cannot possibly imagine the joy of experiencing the eternal love of God any more than one can describe the world and its colors to someone born blind.
1159 reads