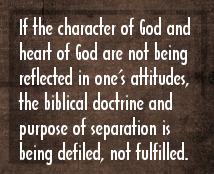 From Voice, Mar/Apr 2014. Used by permission.1
Tiptoeing through the minefields encircling the relationships within the Body of Christ is enormously daunting. It seems that at any moment the dreaded event of stepping in the wrong place will trigger a mine that Satan has laid to disrupt fellowship between believers. As successive issues detonate, the Body of Christ is often divided, and the loss of its vitality prevents brethren from being effective in representing Christ Jesus.
Some of these mines are important areas of truth and doctrine that must never be viewed as negotiable. Others are incidental matters that ought not to inflict the damage they do. Some believers conclude that the risk of crossing the field is too high. Consequently, they want little to do with attempting to relate to the entire Body of Christ. They stay where it is safe and allow the rest of the Body of Christ to do the same. As a result of this protectionism and exclusivity, their impact is greatly diminished.
Other believers are so desirous of enjoying relationships with the entire Body of Christ they become indiscriminate. These believers seem to care little about the issues and the damage that compromising their doctrinal beliefs brings. By the time they reach the other side of the minefield, there is little genuine Christianity left. As a result of their inclusiveness, they have little to offer in terms of meaningful fellowship in Christ.
1032 reads