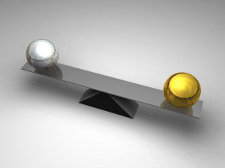 Read the series so far.
A Case Study: Harold Netland and the Demand for Neutrality
As we further consider whether reason should be categorized separately from faith as properly functioning independent of it, I cite the example of an article by Harold Netland entitled, "Apologetics, Worldviews, and the Problem of Neutral Criteria."1 In Netland's 1991 article we see an able but, I believe, misguided critique of presuppositionalist John M. Frame's epistemology as set forth in his book The Doctrine of the Knowledge of God. The overall burden of Netland's complaint is clear, there must be some mutually shared neutral criteria that all people, whether Theist, Atheist, Hindu, Buddhist, Humanist, or whatever, can use to judge each other's positions.2 It is the possibility of this neutral ground that Frame, in common with other biblical presuppositionalists (including the present writer) denies.
4446 reads