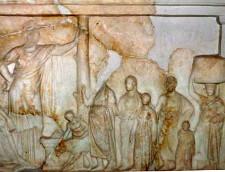 Sometimes the Weak Brother is Right
In 1 Corinthians 8-10, Paul wrote about idol meat. The one who avoided idol meat had a weak conscience. Romans 14 refers to meat-avoiding weak believers as well. Both passages warn the eaters that their eating could cause stumbling and destruction. Both argue for love over liberty. Both deal with standing and falling. However, though these passages deal with similar issues, the Corinthians were struggling with much closer involvement with idols.
In 1 Corinthians 8:1-7, the strong are said to have knowledge. Paul used two words for knowledge. First, γνῶσις, "knowledge," is found in 1 Corinthians 8:1,7,10,11. The same word as a verb, γινώσκω, "I know," is found in 1 Corinthians 8:2,3. Second, εἴδω, "I see" or "I understand," occurs in four verses in 1 Corinthians 8:1 (know), 2 (know), 4 (know), 10 (see). These two words are somewhat interchangeable1. Romans 14:14a uses εἴδω, "I know and am persuaded in the Lord Jesus." Romans 14 does not use γινώσκω.
16558 reads