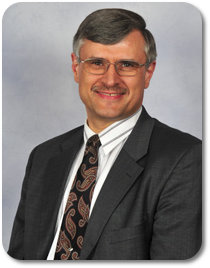 Steven Joseph Stratford, the director for institutional research at Maranatha Baptist Bible College and a pioneer in integrating computers into church ministry, died on Saturday in Watertown, Wis. He was 52.
Dr. Stratford was diagnosed with a brain tumor soon after the start of the fall semester in 2008, leading to a lengthy illness, surgery, and then the "quiet and graceful" exit he prayed for, surrounded by family who sang to him on the way Home.
"Let me state without a moment's hesitation that having a brain tumor is not a good thing," Steve wrote on his blog last October. "Brain tumors are ugly and nasty and virulent, and they kill people. They rank up there with guns and pit vipers. Sorry, I do not relish the thought of dying of a brain tumor!"
Wait, Steve—tell us what you really think!
And he did, marking the final year of his life with the same consistent testimony that characterized his entire ministry. "I am not afraid to pass into eternity; I will be glad to go home to be with the Lord," Steve said. "Please do not 'promote me to glory.' I think that phrase is so hokey! I want it to be said of me that I 'went home to be with the Lord,' please."
2973 reads