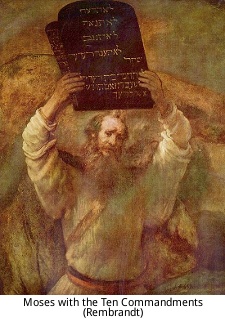 One of our young people and his friend from another church interviewed a number of pastors in the Kokomo (IN) area. To their surprise, a number of them could not recite the Ten Commandments.
Another one of our young people participated in an after-school Christian ministry where the leader asked if anyone could recite the Ten Commandments. She was the only one who could do so (the leader was surprised, because on other occasions, no one was able to perform that feat). You would think the leader would have changed his lesson plan and taught the kids the commandments then and there (I wonder if he knew them), but his question was merely a jumping point for a lesson about the loss of absolute truth.
We live in a day and age where speakers complain about believers not knowing the basic facts, yet these leaders do nothing to remedy the problem. Complaining about the problem, or revealing it, is not enough: we should, instead, fix the problem. And we should not move on until we have done so.
In the past, I've taught the Ten Commandments and Persons of the Trinity during our morning service, conducted a combined Sunday school for grades 1-8 to teach these basics and more, and offered similar material during our Sunday evening service. I have taught much of this material during AWANA or, in recent years, to our summer youth group.
55162 reads