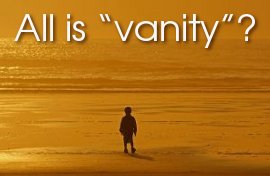 Read Part 1.
In part 1 of this series, I began to develop an alternative to negative renderings of hebel (AV, "vanity"). In part 2, I will explain three reasons why hebel would be better understood as "frustratingly enigmatic." Then I will conclude by looking at some implications of the use of hebel in Ecclesiastes.
Evidence for understanding hebel as "frusratingly enigmatic"
(1) The phrase "chasing after wind" (r'ut ruah) serves as a qualifying element to hebel. Ecclesiastes1:14 is an example, where "chasing after wind" complements hebel. The phrase also occurs in Ecclesiastes 2:11, 17, 26; 4:4, 6; 6:9. The expression indicates something that is beyond man's control. As Carl Shank observed, "A man may determine or make up his mind to accomplish something eternally significant in a creation subjected to vanity, yet no matter how hard he tries Qohelet tells him it will be a fruitless endeavor. A man in his toil 'under the sun' grasps after the wind and attains precious little for all his labor" ("Qoheleth's World and Life View As Seen in His Recurring Phrases," Westminster Theological Journal 37 [Fall 1974]: 67). Thus, the concept of "chasing after wind" supports our contention that the semantic range of hebel includes a cognitive sense (for other complementary phrases, see Ogden, Qoheleth, pp. 24–25).
2591 reads