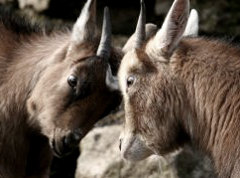 Read Part 1.
The insistence that all things are essential (for the purpose of God's glory) should not be mistaken for an insistence that the believer is responsible for the agreement or disagreement of others. When Paul mandates in 1 Corinthians 1:10 that believers should agree (or literally, speak the same thing) and that there be no divisions (schisms) among them, he is not suggesting that believers should try to control the thinking of others, but that believers should conform their thinking to the wisdom of God (1 Cor 2:5). In so doing, believers will become more likeminded and will better reflect the unity that is already theirs in Christ (Eph 4:1-3).
Where there is disagreement among believers, it seems there is one basic cause: fleshliness (1 Cor 1:11, 3:1-4). In James 4:1, James echoes Paul's observation: "What is the source of quarrels and conflicts among you? Is not the source your pleasures that wage war in your members?" There it is in a nutshell. Where we have conflict, it is because I, or you, or both of us are walking in the flesh rather than allowing the Holy Spirit to bear fruit in us (see Gal 5:16-26).
But where there are disagreements among believers due to fleshliness, the prescriptions are worth noting. The "fleshly" believer is called to conform his thinking to God's wisdom (1 Cor 2:11-13, 16) and to bear his own burden (not causing burden to others, e.g., Gal 6:5), but it is not the "spiritual" believer's responsibility to enforce that. Rather, the "spiritual" believer is to bear patiently with the burdens of the weak, and to maintain humility (Gal 6:1-3). Both parties are cautioned not to go beyond what is written (1 Cor 4:6). In matters beyond what is written believers have freedom (even freedom to differ in opinions). So while all things are essential to the glory of God, there are areas in which He has not revealed details, and we do well to avoid dogmatism in these areas.
1054 reads