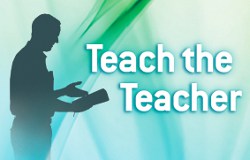 Republished, with permission, from Voice magazine, Jan./Feb. 2012.
The Bible places great emphasis upon the need of the local church to educate its adults nd children in the Scriptures. Christ Himself was a teacher ("teaching in their synagogues," Matt. 4:23; "taught them as one having authority," Matt. 7:29) and the title "Teacher" was used for Him at least forty three times in the Gospels. The apostles taught (Acts 5:21, 42; 11:26). Paul commanded the Ephesian elders to teach "the whole counsel of God" (Acts 20:27). He testified to the Colossians that he admonished and taught every man (Col. 1:28). The Romans who were gifted to teach were urged to concentrate on teaching (Rom. 12:7). Elders of the church must be able to teach (1 Tim. 3:2). Timothy was to give particular attention to reading, exhortation and teaching (1 Tim. 4:13). The heart of Timothy's ministry was to be teaching training, with the goal that the teachers he trained should train others as well (2 Tim. 2:2).
The ministry of Christian education within the local church is a crucial ministry! And I believe the greatest need we have in local church Christian education are teachers who are devoted, knowledgeable, competent, Spirit filled leaders seeking to sincerely serve the Lord through their teaching ministry.
But any pastor can attest that finding teachers like this is not easy, keeping them seems even more difficult, and training them is especially difficult (if it is even attempted in the church). But recruiting, motivating and training workers are the three greatest challenges in local church Christian education.
9109 reads