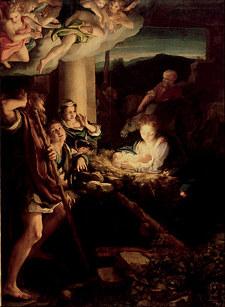 #1: The Word
John 1:1—"In the beginning was the Word, and the Word was with God, and the Word was God." Jesus was in the beginning (He had no beginning), He was with God, and He was God. The grammatical structure of the passage supports the idea that Jesus was the Word, and that He was God, but that He was not the Father or the Spirit, as both persons are distinguished clearly from Jesus (e.g., Jn 15:9, 26). While the concept of the triune God, or the trinity is prevalent in the New Testament, it is not simply a New Testament concept, as it is found in Old Testament as well (e.g., Isaiah 48:12, 16).
#2: The Image of the Invisible God
Colossians 1:15-17—"He is the image of the invisible God, the firstborn of all creation. For by Him all things were created, both in the heavens and on earth, visible and invisible, whether thrones or dominions or rulers or authorities—all things have been created through Him and for Him. He is before all things, and in Him all things hold together." That He is the firstborn of all creation means that He is sovereign over creation, not that He is the first created thing Notice the parallel reference to Jesus as the firstborn from the dead in 1:18. Clearly this shows His sovereignty over death, as the one conquering death. The passage is not indicating that He was the first to die.
1224 reads