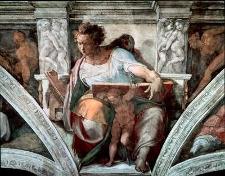 Read Part 1.
A Time. Times, and Half a Time
The length of time that these saints are given into his hand is described cryptically as "a time, times, and half a time" (7:25). If we stand back and think a little about these words, it will become apparent that the only possible way in which they can make sense is if we understand the plural "times" as designating "two times." If it can mean any more than two the whole revelation drops into irrelevance. This is because if any more than "two times" is meant, it might be three or four, or twelve, or twelve hundred times. Who's to know?
No, the only way "times" designates anything for sure is if it is a simple doubling of a "time." This would mean that we have one unit (or "time"), and two additional units ("times"), and then a half unit (half the first unit). Hence, whatever the units are we have three and a half of them.
Since we know that these units are units of time the best suspects are days, weeks, months, or years. In Daniel 4:23, 32 it is most likely that the "seven times" in which Nebuchadnezzar was insane stands for seven years. If that is correct then "a time, times, and half a time" in Daniel 7:25, and later in Daniel 12:7 stands for three and a half years.
1365 reads