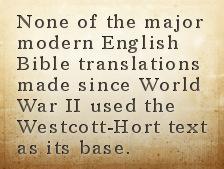 Reprinted with permission from As I See It, which is available free by writing to the editor at dkutilek@juno.com. Read Part 1.
The question remains to be resolved: how shall we define textus receptus? It has been customary in England to employ the 1550 text of Stephanus as the exemplar of the textus receptus (just as an Elzevir text was so adopted on the continent of Europe), and so we will follow this custom. For our purposes here, the term textus receptus means the 1550 edition of the Greek New Testament published by Robertus Stephanus.
The Westcott and Hort text is much simpler to define. This is the Greek New Testament edited by B. F. Westcott and F. J. A. Hort and first published in 1881, with numerous reprints in the century since. It is probably the single most famous of the so-called critical texts, perhaps because of the scholarly eminence of its editors, perhaps because it was issued the same year as the English Revised Version which followed a text rather like the Westcott-Hort text.
3657 reads