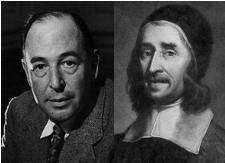 From Detroit Baptist Seminary Journal (DBSJ), with permission. Read Part 1 and Part 2.
C. S. Lewis and Mere Christianity
N. H. Keeble, speaking about the connection between Baxter and Lewis, wrote, "[There is] a pervasive coincidence of idea and emphasis between the work of the most popular and influential Christian evangelist and apologist of the seventeenth century and that of his counterpart in the twentieth."1 Indeed, a similarity of thought should be expected, since Lewis borrowed a central phrase from Baxter's thought. But we will also find that there are some striking differences. This section will develop Lewis's conception of MC. The reader is encouraged to look for the subtle differences in thought between the two great Christian thinkers. The next section will make the differences as well as the commonalities explicit, allowing us to examine how the Christian apologist should incorporate MC into his defense of the faith.
2072 reads