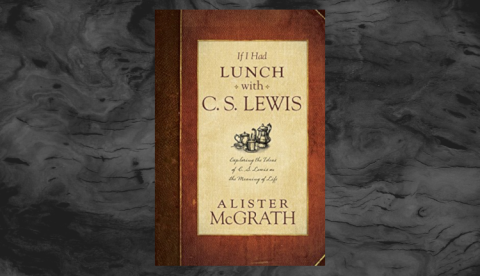 [amazon B01FMVVS0W thumbnail]
A review of If I Had Lunch with C. S. Lewis: Explaining the Ideas of C. S. Lewis on the Meaning of Life,* by Alister McGrath, Carol Stream, IL: Tyndale House, 2014, 241 pages, hdbk.
C. S. Lewis is an endlessly fascinating person. He was an Oxford Don with few equals as an intellectual. Anyone who is familiar with the three volumes of Letters is well aware that they are reading the correspondence of a man who had read (and often reread) just about every great work of literature in the Western canon. Lewis was a Medievalist, thoroughly at home in Thomas Aquinas, Dante and Boccaccio (in their originals), with Beowulf and the Nordic mythology, and with Edmund Spenser, Milton, and a whole roster of other poets and mystics and playwrights.
But Lewis not only knew the greats of the 10th to the 16th centuries, he was also immersed in Plato and Aristotle, the Tragedies, Virgil and Ovid, and Neo-Platonists, again, all in the original Greek and Latin. His Letters especially brim with references and allusions to these works as well as a host of British, French and German classics. He was, by any measure, a brilliant scholar.
But to say this about Lewis is not to get at the whole man. For C. S. Lewis was a man of down-to-earth uncommon sense. His faculties were aware of the limitations of the five senses and the realities of life and truth that dwelt beyond. He, like G. K. Chesterton, saw the miraculous everywhere.
4044 reads