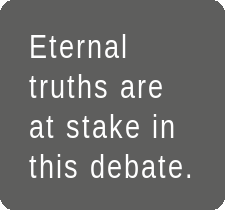 "Have you ever told your father that you love him?"
When the gray-haired, glasses-wearing lady sitting across the table from me in the Bob Jones University (BJU) Dining Common spoke these words to me after I had asked her to pray for my dad's salvation, I felt like jumping across the table and choking her! How dare she expect me to speak such words to the man who had neglected me and treated my mother with such contempt!
At that moment, God convicted me. I still harbored negative feelings toward my father. I thought, "How can I ask people to pray that God would save a man that I don't care for myself?"
As a seminary student at BJU, I received assurance of my salvation. God's Spirit showed me that a right standing with God does not come through my own merits and actions, but it is founded solely upon the sacrifice and the righteousness of Christ. As I began to understand the unmerited love and forgiveness that God offers me in Christ, I knew that I needed to love and forgive my father in the same way.
Thankfully, by God's grace and the help of BJU, I was able to forgive my father and cast off my negative feelings towards him. I know that forgiving my dad back then has enabled me to serve God and enjoy a healthy life today.
26141 reads