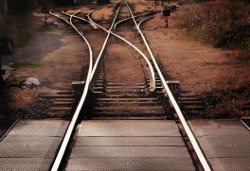 Dr. Doug MacLachlan presented this paper at Central Seminary's fall conference on Oct. 17, 2011. Read part 1. Part two begins with the second of three indispensible necessities for authentic fundamentalism.
2. Pursuing the radical center
It was G. K. Chesterton who suggested that the Christian life is like a narrow pathway with deep ditches on both sides. For much of its history, large segments of the body of Christ have too often found themselves off the "narrow pathway" (the radical center) and in one or the other of these ditches. It doesn't matter which ditch we fall into. In both of them, believers become muddied and defiled. In this condition, the watching world is once again receiving a skewed view of Christ and His body. Far too large a percentage of the evangelical world has descended into the "left ditch." And doubtless, far too much of the fundamentalist world has descended into the "right ditch." This tragic descent into the ditches mandates a deep commitment to a strong pursuit of the "radical center," if we are to recover historic, mainstream fundamentalism.
8041 reads