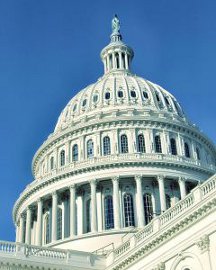 Read Part 1.
Should Christians be engaged in the American political process? Should involvement in politics ever go beyond a bit of reading and vote-casting? Do pastors and teachers have an obligation to address political topics? Should churches be involved in any way?
Many doctrinally-serious evangelicals and fundamentalists are now answering all of these questions in the negative. But do their objections to Christian political engagement justify keeping political thought and activity to such a minimum? In Part 1 of this series, I began considering and answering several representative objections to more-than-voting involvement in politics. Here, I'll evaluate several more objections.
First, some attention to the meaning of "political engagement" may be helpful.
Forms and levels of political engagement
For the purposes of this article, "engagement" occurs in two forms and on many levels. The form of engagement may consist of involvement with the ideas or involvement with the process—or both of these. We are ideologically engaged when we ponder points of political (and social) philosophy that relate to the political issues facing our society and seek to think biblically about them. We are involved in the process whenever we act to influence the choice of leaders or policies, whether the action is writing a letter to the editor of the local paper, calling a legislator, marching in a rally or simply casting a vote.
These forms of engagement also occur on many levels. At the most basic, minimal level, idea engagement means listening to the claims of political figures and considering whether they are true in light of what we already know from Scripture. Engagement at the deepest level might take the form of earning a PhD in political theory or writing a book, working for a think-tank, or touring the country on a lecture series.
Casting a vote is pretty much the minimal level of process engagement. Arguably, putting a bumper sticker on the car is more visible but less influential on the final result of an election or policy decision. Deeper levels of engagement range from passing out campaign literature, to donating, to joining a campaign staff, to holding public office.
3640 reads