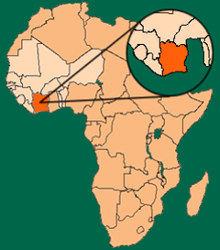 Mark and Nancy Sheppard began missionary service in the nation of Liberia, but God had an agenda of personal transformation neither of them expected. Nancy has written about that experience in her recent book, Confessions of a Transformed Heart. We asked Nancy to tell us a bit about her experience in Africa and her aims in writing the book.
What led you to Ivory Coast and work among the refugees?
After a wonderful first term of ministry in Liberia (1986-89), we were in the States for our one-year home assignment when the Liberian Civil War began. We hoped very much that it would end quickly and we would be able to resume the life and ministries we loved. Sadly, it dragged on and on. In 1991 we returned to Africa, this time to Liberia's neighboring country, the Ivory Coast, where we began to minister among the Liberian war refugees.
After the missionaries evacuated from Liberia, Baptist Mid-Missions made a policy that no families with children still in the home could live inside Liberia. We had three young children at the time. It was our strong desire to continue work among the Liberians that caused us to make the decision to enter refugee work in the Ivory Coast rather than begin work among an entirely different people group.
3289 reads