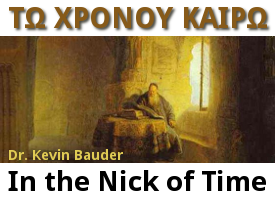 Today (the day upon which I write this essay) is Maundy Thursday. Tomorrow will be Good Friday and this Sunday is Easter.
In the liturgical calendar, each of these days has a special significance. Maundy Thursday commemorates the Last Supper, Good Friday the crucifixion, and Easter Sunday the resurrection. Christians have observed these dates for centuries, along with others such as Palm Sunday (commemorating the Triumphal Entry), Annunciation (commemorating Gabriel's visit to Mary), and Christmas.
Some Bible-preaching churches observe all of these days, while others observe only the most important. A minority of Christians have refused to observe any of them. For example, many Puritans believed that observing Christmas was an instance of will-worship, and they rejected it entirely.
The notion of will-worship grows out of the so-called Regulative Principle. Perhaps the most fundamental rule of worship in the Reformed tradition, the Regulative Principle was adopted wholesale by both the Anabaptists of the continent and the Baptists of England. In brief, the Regulative Principle states that churches are permitted to employ only those elements of worship that are authorized in Scripture.
The Regulative Principle is what led many of the Reformed (including the Puritans) to reject the observance of days like Christmas. The New Testament nowhere instructs churches to observe the day, and it nowhere depicts its observance. The same would be true of other holidays like Maundy Thursday and Annunciation. Since the observance of these days is not authorized in Scripture, they were thought to be merely the product of human invention and self-assertion. After all, worship that is not required by God can only be offered to please the worshippers, which means that the worshippers are really worshipping themselves. This act of self-assertion is what the Reformed (following Col. 2:23) refer to as "will-worship."
4319 reads