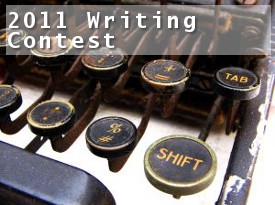 It's that time again! SharperIron is inviting anyone with writing talent to submit an article for our 3rd annual Writing Contest. This year, we'll be selecting up to four winning articles and awarding each a spot on the front page as well as $75 (but you could win a good bit more! See below.) If you submit more than one article, you might even win more than once.
Below, you'll find the usual details, but first, note that a few things are different this year.
Registered users can click the "like this" link on contest articles to give them votes. The "likes" count will be a factor (not the only factor) in choosing the winning submissions.
All contest submissions this year will be tagged "2011 Contest," so you'll be able to view all the contest entries in one place by clicking here.
To encourage writers to submit, we're simultaneously running a "Chip-In" campaign. Donations to the campaign will be divided up among the winners, in addition to the $75 prize. A percentage may be divided among the non-winners as a consolation prize.
The deadline for turning in an article for the contest is midnight, July 15.
690 reads