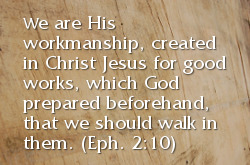 The phenomenon of "cultural Christianity" is not a new one. The label "carnal Christian" has been bandied about regularly in literature and in the blogosphere. Christians of every theological stripe know "carnal" or "cultural" Christians.
Pick whichever label you like best, or even invent your own—you know these people.
They claim repentance from sin and salvation through Christ alone. They come to church more or less regularly…sort of! They sit more or less attentively in the pews and may even tithe faithfully. They go through the motions. And yet…there is no discernible joy of Christ in their lives. There is no growth. To borrow a phrase from Paul Tripp, there is a "gospel gap" in their lives. Their Facebook pages abound with worldliness; perhaps you've even secretly hidden them from your news feed! Their children walk and talk like everybody else. There is no concept of separation, holiness or imitation of God in their lives. They are indistinguishable from normal, everyday, unsaved "good people."
These folks are legion. Some are undoubtedly saved, others are undoubtedly not. I'm not interested in debating that issue right now. What is significant is that too many Christians have little conception of who Christ is, what they were saved from and what their calling as Christians is. We'll look at what Paul had to say on this very matter.
1469 reads