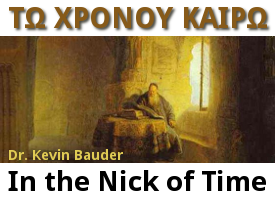 No one in the Bible was more interested in prayer than Jesus. Prayer was a natural and regular part of His life. He could speak to His Father spontaneously and almost conversationally. He could also devote long periods to planned prayer. Not surprisingly, prayer was one of the important matters in which He instructed His disciples.
A substantial portion of Jesus' Sermon on the Mount (Matt. 6:5-15) focuses on prayer. It occurs in the middle of a discussion of spiritual exercises, which is part of a larger discussion of idolatry, which in turn is part of a larger discussion of the meaning of God's law. The positive side of Jesus' instruction takes the form of the Lord's Prayer, which is designed to provide a template for His followers to employ in their prayer lives. Immediately before the Lord's Prayer, however, Jesus offers words of negative instruction. Before He teaches His disciples how they should pray, He describes two ways in which they should not.
First, Jesus tells His disciples not to pray like the hypocrites. This warning follows the pattern of Jesus' instruction about giving and fasting. All of these spiritual exercises can be performed hypocritically.
How does one pray, give, or fast like a hypocrite? According to Jesus, spiritual exercises become hypocritical when they are performed in order to impress people—as the King James Version puts it, to "be seen of men" (Matt. 6:1, 5, 16). The reason is simple.
No one can serve two masters (Matt. 6:24). One must choose between God and money. In the same way, one must choose between God and human praise. When money and praise are pursued as ends, they become idols. Spiritual exercises performed in the pursuit of idols are idolatrous.
1008 reads