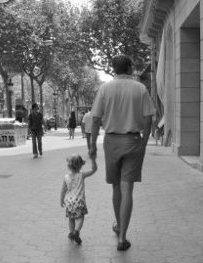 And, ye fathers, provoke not your children to wrath: but bring them up in the nurture and admonition of the Lord. (KJV, Ephesians 6:4)
November 24, 2014, is a day I will never forget. That is the date my oldest son was born and for all intents and purposes the day I became a father. I remember standing in the hallway of the little hospital and wearing that stupid looking paper gown. As they prepared my wife for the delivery, I paced the empty O.R. hallway. As I paced, I was praying and begging God.
I was of course concerned for my wife's safety and the healthy birth of my son, but even more than that, a single thought consumed me, "O God, please don't let me mess this up." I was entering fatherhood with great fear and trepidation. Why? Well, the answer is simple. The society we live in has spent decades telling us that dads are incompetent. If you think I am wrong about this, start paying attention to the dads on your favorite TV shows. To be blunt, Dad is often either a total moron or a hate filled cynic who neglects his children. What are we supposed to do in the face of such brainwashing?
For the Christian father, the Bible offers some general principles and a few direct commands. Ephesians 6:4 is one of those few commands that we are directly given as dads. The verse is a plea for us to invest in in the spiritual well-being of our children. Below are some investments we ought to be making.
1662 reads