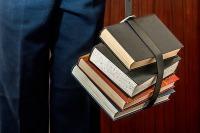 Every year, book lovers and avid readers build up a head of steam about Banned Books Week. The purpose of Banned Books Week is to celebrate the freedom to read, and to highlight the importance of free and open access to information.
Parents who want to protect their children from harmful influences may sometimes challenge books with objectionable content, which causes a conflict between a freedom loving society and Christian values. How should a Christian respond?
Banned or Challenged?
The term "banned" is a little misleading. The American Library Association's Banned Books List includes any book that is "challenged," for whatever reason.
2019 reads