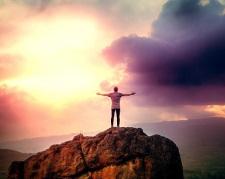 "Christian liberty."
What does that bring to your mind? Perhaps you're thinking of those Facebook debates over the Christian's use of alcohol or arguments over personal standards. Perhaps it conjures bitter memories of judgmental Christians and legalistic churches.
What if, when we thought of Christian liberty, it brought to mind ideas such as "love," "God's glory," and "service"?
Sadly, this isn't typically how we frame the topic of Christian liberty—but it's exactly how the Bible frames it. I fear that, in our discussion regarding Christian liberty, we jump straight to the application and ignore the overarching biblical principles that are designed to govern and regulate our exercise our Christian liberty.
First of all, what is Christian liberty? It is the reality that, because of Christ's obedient life and sacrificial death, we are no longer bound by the Legal demands of the Mosaic law. Christ fulfilled the law and has brought us in union with Him. Now, we serve the law of Christ, the perfect law of liberty (James 1:25). Christian liberty is, without a doubt, a wonderful truth.
3715 reads