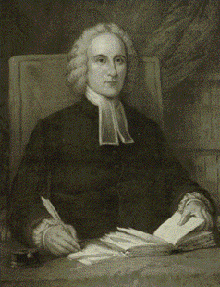 With appreciation to A Puritan's Mind and the Christian Classics Ethereal Library. Jonathan Edwards was born in the American Colonies in 1703 and raised in the Puritan and Congregationalist tradition. He entered Yale College just shy of 13 years of age and graduated at the head of his class in 1720. He wrote the resolutions below from 1722 to 1723, at age 19. At the time, he was studying theology at New Haven and serving as pulpit supply at a small Presbyterian church.
Being sensible that I am unable to do any thing without God's help, I do humbly entreat him, by his grace, to enable me to keep these Resolutions, so far as they are agreeable to his will, for Christ's sake.
Remember to read over these Resolutions once a week. 
1. Resolved, That I will do whatsoever I think to be most to the glory of God, and my own good, profit, and pleasure, in the whole of my duration; without any consideration of the time, whether now, or never so many myriads of ages hence. Resolved, to do whatever I think to be my duty, and most for the good and advantage of mankind in general. Resolved, so to do, whatever difficulties I meet with, how many soever, and how great soever.
869 reads