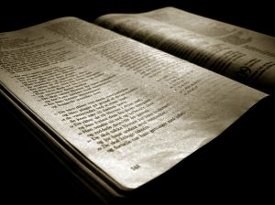 This outline continues a series preached in 2002. For my own edification (and hopefully yours as well), I've restudied the passage and made some improvements to the outline.
Remember that Peter's original audience was enduring suffering—persecution in particular. Of course, they would experience fear, just as we all do when facing times of trouble. So you would expect the apostle to offer a message of "fear not," as God's messengers so often did in Scripture. And in fact he does offer that message eventually (1 Pet. 3:6, 14). But first, rather than saying "fear not," he says "live in fear." Why? and what sort of fear does he have in mind?
In our fallenness we're all only too willing to fear the wrong things and in the wrong way, and in troubled times, that tendency doesn't go away. This is why God confronted His people through Isaiah with these words.
I, even I, am He who comforts you. Who are you that you should be afraid Of a man who will die, And of the son of a man who will be made like grass? 13 And you forget the Lord your Maker, Who stretched out the heavens And laid the foundations of the earth; You have feared continually every day Because of the fury of the oppressor, When he has prepared to destroy. And where is the fury of the oppressor? (NKJV, Isaiah 51:12–13)
1558 reads