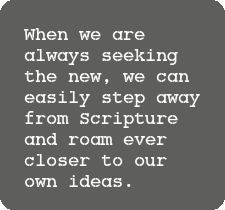 From VOICE, May/Jun 2015. Used with permission. Read Part 1.
I have a concern about one concept that is affecting all of the various ministries in the church, but I want to specifically focus on youth ministry and how this concept is affecting and changing it. My area of concern is what I am going to call intellectualism.
I define intellectualism as the process in which growth can only be realized and achieved by utilizing fresh, newly discovered information in contrast to the simple and profound. It is the concept that you must always teach something new rather than something simple (that is, the Bible). Though the exploration of new truth, and exposing ourselves to ideas that we previously did not know, is a good practice and a needed part of spiritual growth, intellectualism creates an adverse climate in youth ministries and churches across our nation. Intellectualism looks down upon the simple, yet profound, teaching of the Word of God in favor of teaching new ideas with fresh methods.
2628 reads