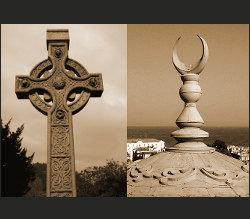 Adapted from Voice, Mar/Apr 2015. Used with permission. Read Part 1.
God gave this warning to Israel as they were about to enter the Promised Land filled with Canaanites:
Take care that you be not ensnared to follow them, after they have been destroyed before you, and that you do not inquire about their gods, saying, 'How did these nations serve their gods?—that I also may do the same.' You shall not worship the LORD your God in that way, for every abominable thing that the LORD hates they have done for their gods, for they even burn their sons and their daughters in the fire to their gods. (ESV, Deut. 12:30-31)
The Quran certainly does believe in replacement, not only of the Jews and Israel but also of the Messiah and His Church, replacing them with Islam's own prophet and book. But the Bible clearly teaches: "For there is one God, and there is one mediator between God and men, the man Christ Jesus" (1 Timothy 2:5).
2045 reads