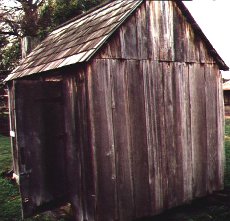 Republished, with permission, from Voice magazine, Sept./Oct 2011. Read Part 1.
Child discipline and the Bible
Once upon a time Father knew best, and once upon a time we allowed Him to teach us how to parent. In Deuteronomy 8:3, God acknowledges humbling Israel and allowing them even to go hungry (of course, only to a point), calling it parental discipline (Hebrew yaser, LXX Greek paideusai) in Deuteronomy 8:5. Solomon counsels his reader not to reject the Lord's discipline (same Hebrew and Greek roots as in Deuteronomy 8) and reminds that the Lord reproves those He loves, "as a father the son in whom he delights" (Prov. 3:11-12). Solomon suggests. further, "reproofs for discipline are the way of life" (Prov. 6:23b), "whoever loves discipline loves knowledge" (Prov. 12:1), and "a wise son accepts his father's discipline" (Prov. 13:1a).
Not only does Solomon communicate the importance of discipline, but he also relays an important method, saying, "He who spares his rod hates his son, but he who loves him disciplines him diligently" (Prov. 13:24), and "foolishness is bound up in the heart of a child; the rod of discipline will remove it far from him" (Prov. 22:15). He adds, "Do not hold back discipline from the child, although you beat [or smite] him, he will not die" (Prov. 23:13). From these contexts it is easy to see that Solomon is not advocating cruelty and physical damage. Rather, in no uncertain terms Solomon portrays physical discipline as an expression of love for the purpose of training and fostering growth—and according to Solomon, it has to hurt.
In addition to discussing purpose and method, Solomon also expresses the urgency of parental discipline: "Discipline your son while there is hope, and do not desire his death" (Prov. 19:27); "You shall beat him with the rod and deliver his soul from Sheol" (Prov. 23:14). Solomon contends that if a parent is not disciplining forcefully (causing pain) and intentionally (with love and for growth), that parent is sentencing his child to walk a path endangered by stupidity (Prov. 12:1b), poverty and shame (Prov. 13:18a), self loathing (Prov. 15:32a), straying from knowledge (Prov. 19:27), foolishness (Prov. 22:15), and even premature death (Prov. 19:18; 23:14).
26376 reads