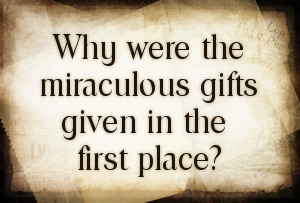 So far in this study of cessationism (Part 1, Part 2, Part 3), we have considered the what question and the when question. Per the what question, cessationists conclude that what took place in the New Testament (with regard to the miraculous gifts) is not happening in the church today—even if charismatics are using biblical terminology to refer to non-biblical practices.
Per the when question, cessationists conclude (on the basis of passages like Ephesians 2:20) that the miraculous and revelatory gifts were intended only for the foundational (apostolic) age of the church. Thus, they should not be expected to continue after the time of the apostles.
But this raises the why question: Why were these gifts given, such that they are no longer necessary after the foundation age ended?
At least three purposes are designated in Scripture.
Purpose 1: a sign.
The miraculous gifts were given as a sign by which God authenticated His messengers during a time of transition from Israel to the church. That purpose was no longer necessary once the transition was complete and the church was firmly established.
5289 reads