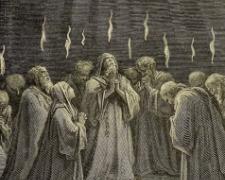 Reposted from It Is Written. Read the series.
Perhaps one of the most debated topics among modern Christians is the subject of New Testament (NT) prophecy and tongues. Many believers in our day are raising the question, "Are the New Testament gifts of prophecy and tongues still for today?" This isn't just a modern question. It's been raised from time to time throughout the history of the church.
In the early church there were different responses to that question. For example, the early church fathers Irenaeus (c. 130-200) and Tertullian (c. 150-212) both refer to ongoing manifestations of prophecy and tongues in their day (i.e., 2nd and 3rd century). On the other hand, both Chrysostom (c. 350-407) and Augustine (354-430) argue that the gift of tongues had ceased by their time (i.e., 4th and 5th century).
4204 reads