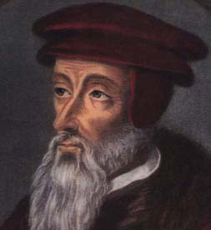 In this excerpt, Calvin explains the third use of the law:1
The third use of the Law (being also the principal use, and more closely connected with its proper end) has respect to believers in whose hearts the Spirit of God already flourishes and reigns. For although the Law is written and engraven on their hearts by the finger of God, that is, although they are so influenced and actuated by the Spirit, that they desire to obey God, there are two ways in which they still profit in the Law.

For it is the best instrument for enabling them daily to learn with greater truth and certainty what that will of the Lord is which they aspire to follow, and to confirm them in this knowledge; just as a servant who desires with all his soul to approve himself to his master, must still observe, and be careful to ascertain his master's dispositions, that he may comport himself in accommodation to them.
3113 reads