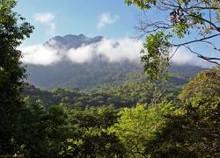 It is so important that we focus on God's perspective concerning ultimate origins. Human theories, hypotheses, speculations and opinions come and go. But the God "who cannot lie" (NKJV, Tit. 1:2), who was there when the world began, has written a perfect book—the Bible—which He requires that we read and believe (Rom. 10:17).
Let us think, then, about the vital and blessed heritage that Christians enjoy as we understand the truths of creationism.
The Bible, God's unique, inerrant, inspired, infallible written revelation, informs us that the world was not the product of some vague designer (to say nothing of time through chance by mindless evolution), but was the creative work of the Second Person of the triune God, Jesus Christ our Lord.
Through Christ, the eternal Son of God,
all things were created that are in heaven and that are on earth, visible and invisible, whether thrones or dominions or principalities or powers [different ranks of angelic beings]. All things were created through Him and for Him. And He is before all things, and in Him all things consist [hold together]. (Col. 1:16-17)
995 reads