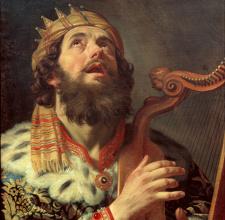 God's Covenant with David
David was the king that Yahweh had promised (Gen. 17:4-6, 16; Deut. 17:14-15). His reign came some four centuries after God had said that He would "surely set a king over you" (Deut. 17:15), and not much shy of a millennium after the covenant made with Abraham. God never seems to be in a hurry.
In many ways 2 Samuel 7 is the strategic point for understanding the covenants with Israel. It pulls together the Abrahamic and Mosaic covenants, land and people and God-centered government, in a way that concretizes the one and shows the righteous yet temporal nature of the other. In the person of the King the Lord's creation goal will take shape. That King is not David, but David, as Abraham, is granted the inestimable privilege of beginning the dynasty (cf. Matt. 1:1).
Scripture presents the Davidic covenant almost as a response from Yahweh to the relocation and veneration of the ark of the covenant. Here is a man who will take the covenant seriously (even though he will sin grievously – Psa. 51).
The importance of the Davidic covenant is underlined by the fact that, as with all the previous Divine covenants, God Himself utters it.
449 reads