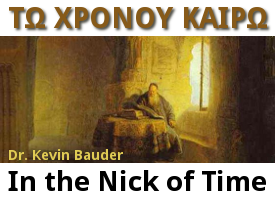 Read Part 1, Part 2, and Part 3.
Both Offerer and Offering
One of the primary concerns of the writer to the Hebrews is the priesthood of Christ. The duty of a priest is to represent humans before God. In order to fulfill this responsibility effectively, the priest must be human himself. The priest must also be sinless. The only priest who has ever met these requirements is Jesus Christ, and He has met them perfectly.
Remarkably, Christ was not only the priest who offered sacrifice, but also the sacrifice that was offered. Not surprisingly, once the author of Hebrews has discussed the priesthood of Christ, he turns his attention to Christ as the offering for sins. In Hebrews 10, he examines Christ as the sin offering, drawing out the meaning of Jesus' sacrifice by contrasting the person and ministry of Christ with the Levitical sacrifices of the Old Testament.
He begins by observing that the Old Testament offerings were shadows and not ultimate realities, and then notes that those sacrifices could never make the offerers perfect (1). In other words, the Old Testament sacrifices could never actually remove the guilt of sin. If they could have, the need to offer additional sacrifices would have been eliminated (2). If one's sins have been completely forgiven, then one does not need any further sacrifice. Yet the Levitical sacrifices on the Day of Atonement were made every year, year after year (3). The necessity of repeating the sacrifices should have proved that the blood of animal sacrifices could not remove sins (4).
807 reads