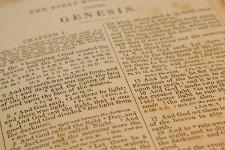 This was written as an excursus for a chapter in the book The Words of the Covenant.
I am well aware of the view held by many respected scholars who believe that "the Kingdom of God" is the main theme of the Bible.1 But it must be admitted that it has not been an overarching theme of Genesis, and therefore of the first several thousand years of history. Though it may be rightly intimated from the image of God of Genesis 1:26-27, and the creation mandate of Genesis 1:28f., that man was to rule over the world for His Maker,2 the idea of a kingdom of God had not yet taken clear shape in the biblical text, especially from the time of the Fall.3
What we see, rather, is the story of fallen humanity moving away from their Creator and His program, and a providential counter-movement through Noah to Abram finalizing at some future point in a coming potentate from Judah. Hence, the kingdom theme emerges very gradually from the Hebrew narrative. Surely a more prominent theme has been the figure of the coming "Deliverer King"4 who is promised at the beginning and the end of the Book (Gen. 3:15; 49:8-10).
4688 reads