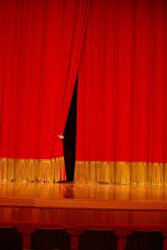 The plan
James Fraser (d. 1885) had a novel idea: redeem the theatre. He saw that it portrayed ideas, displayed unwholesomeness, and evoked responses contrary to modesty, dignity, and purity. He was not alone in this sentiment. Clergy widely, strongly, and vocally opposed the theatre. However, church-goers were still attending, enjoying, and even being employed by it.
Fraser envisioned the theatre being used for good, so that it would positively influence audiences and also be a legitimate form of amusement for Christians—one that was dignified, modest, and not degrading. In his opinion, it was futile to exhort Christians to avoid the theatre altogether, because it was a popular form of amusement and he believed Christianity could effect a positive change in and through it. Therefore, redeeming the theatre was the ticket.
As the second Bishop of Manchester, Fraser was in a position to try to persuade those inside and outside the church that his idea was valid and that change was possible. He was well-liked and respected, even by Nonconformists. He was firm in his beliefs and convictions, but not dogmatic, and an advisor and peacemaker on issues outside of the church, such as labor disputes. However, in nineteenth-century England, his redeeming-the-theatre idea was radical.
4029 reads