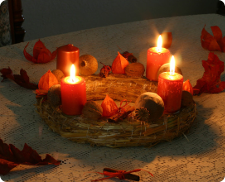 © 2015 Dispensational Publishing House, Inc. Used by permission.
"We've never done that here before."
That brief statement was intended to provide a comprehensive resolution to my introduction of an Advent candle into the services of the church I pastored several years ago. I had asked each of the deacons to begin one of the morning services during the four Sundays of Advent by lighting an Advent candle and sharing a two-minute testimony regarding the importance of the season.
I thought that the mounting popularity of Advent calendars, candles and wreaths within evangelical (i.e., non-liturgical) churches would allow our small fellowship to enjoy this simple ceremony—possibly forging a meaningful new tradition. At least it would be better than two more minutes of announcements, I surmised.
6147 reads